Some of these will take you to the reserves or protected areas covered with vegetation, cenotes, salt flats and lagoons right where the flamingos court and nest, in a beautiful scenario in front of the Caribbean coast and the Gulf of Mexico; home of hundreds of species of birds and mammals, ravishing beaches with crystal turquoise-water lagoons surrounded by palms.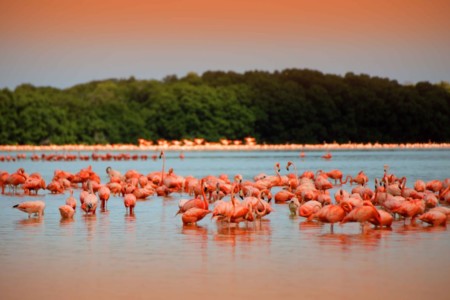 Río de los Flamingos, Celestún
Celestún
Celestún is located on the way out of Mérida, 95 kilometers to the west. It is a port where the most exotic species of the Yucatecan geography live together, such as the pink flamingo that amazes with its peculiar low flights and reproduces naturally in the estuary, after long migration routes along the eastern coast.
El Palmar
El Palmar is also a protected area where migratory water birds live, such as the Canadian duck, which hibernate and breed in the area. It is considered one of the most important ecological reserves in the state because of its abundant flora and varied fauna, ideal for ecotourism lovers. It is located 80 km from Mérida.