Another wonderful cenote you can visit in the state of Yucatán, is the one in the municipality of Chocholá, located 20 minutes away from Mérida on the road to Campeche where the cenote San Ignacio is located, also called Tunich Ha (Water in the stone).
Its interior, has preserved its marvelous peculiarities of millions of years ago, displaying a magical and ancestral beauty.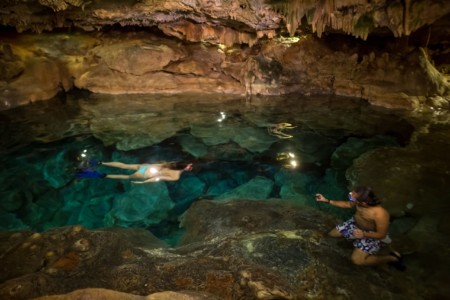 Interior of the cenote
Inside the cenote there is an inverse thermal effect with the temperature on the surface. From November to February, when the temperature outdoors is 16° C, the cave inside is still warm at 28°C; and the rest of the year, when the temperature outside the cenote is scorching at above 40° C, the interior of the cave remains at 28°C.
The archaeological zone of Oxkintok and the caves of Calcehtok are Less than half an hour away from the cenote.
Night snorkeling (diving practiced on shallow areas) is available at the cenote.
There is a restaurant for 170 people and a menu with more than 30 dishes from the region.
The place also has a didactic farm where the guide explains the diverse species of flora and fauna; you can also visit the 30-meter-long aviary.
Visitors can take a tour of the educational trail to learn about the flora, the Mayan coal oven, the Mayan Pyramid, the henequen and the "sascaberas" (sascab deposits).
The place has green areas and catering services for social events both daytime and nighttime.
You can hire a planner for marriage proposals, weddings, birthday parties, etc.
There are special services, packages and discounts for groups and school trips.
If you want to rest, you can also rent a hammock at about $30 pesos per hour. In addition, there is a beautiful pool in the green area.