Hacienda Santa Cruz is part of the catalog of haciendas protected by the National Institute of Anthropology and History (INAH), making it a cultural heritage of the state of Yucatán. Today it has been revamped into a wonderful hotel, with a unique personality and defined character.
In its origins in 1640, Hacienda Santa Cruz was a Franciscan monastery. Over the years it used to be a farm, whilst during the glory period of "Oro Verde" in Yucatán, it became a henequen cultivation hacienda.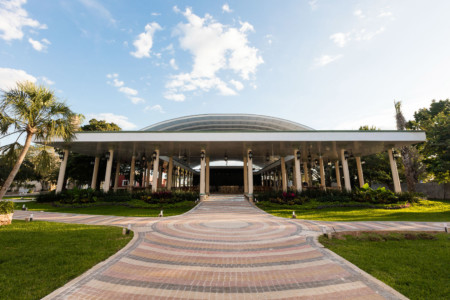 Hacienda Santa Cruz, Esplanade
This hacienda was recently restored and converted into a luxury hotel keeping that air of antiquity, full of history and tradition.
Hacienda Santa Cruz preserves the original arrangement of its buildings, where you can see the old monastery, the machine room, and the beautiful chapel. Going into its architecture is like traveling back in time to the México of our roots.
The spirit of a charming hotel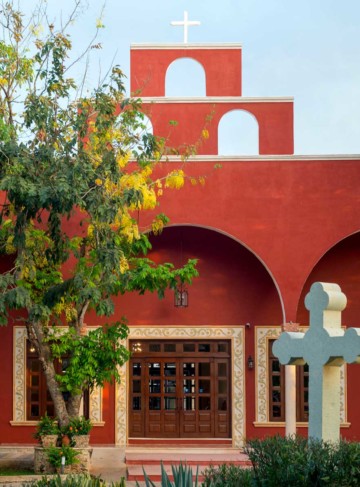 Hacienda Santa Cruz
A captivating roundabout, surrounded by a spectacular garden, embraced by flamboyant trees, rain of gold, pich (tree of the region), orange and palm trees, will be the scenario to arrive at the entrance of the Hacienda. Right there, you will be welcomed with a warm smile to this majestic hotel, surrounded by complexes of colonial architecture that once formed the then 17th century Franciscan monastery and later, at the end of the 19th century, a henequen plantation, the "green gold of Yucatán".
The rooms are distributed around its extensive gardens, each one is unique and exclusive. To furnish an exceptional style, some rooms have a bathtub, terrace, patios, or a private garden.
It is possible to choose among the Master Suites that are located in what used to be the monastery of the hacienda. The Junior Suites are ideal for small families since it is easy to install three guests in them and they are near the chapel, which adds a certain intimacy. The Double Deluxe Suites have a beautiful terrace and are perfect for newlyweds. Besides the rooms, the hotel has 2 heated swimming pools, one next to the Valentina restaurant and the other near the chapel.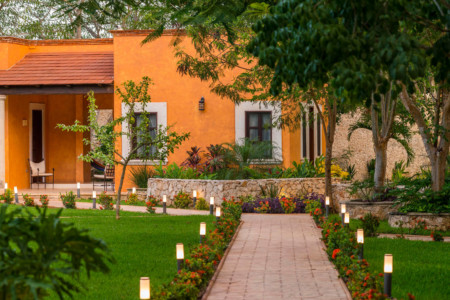 Suite Delux
During your stay do not forget to go to the little craft shop where you will find handicrafts made by local artisans.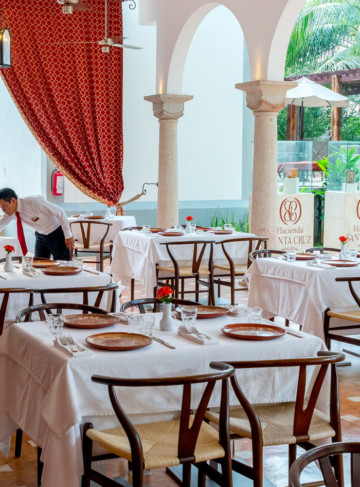 Restaurante Valentina
Valentina Restaurant (with a capacity for 60 people) is undoubtedly a magical place within a colonial space, on the terrace of the old machine house and overlooking beautiful gardens and lush trees.
Here you will be able to savor for breakfast, lunch or dinner, exquisite recipes of high Mexican gastronomy, authored by our proudly Yucatecan Chef, Pedro May.
Each dish is elaborated impeccably through a process that uses fresh ingredients of the highest quality, rescuing Mexican roots and techniques. It has its own orchard, within the facilities of Hacienda Santa Cruz to give an even more special touch to its recipes.
Next to Valentina restaurant you will find Victoria terrace (with a capacity for 32 people), ideal for private dinners or birthday celebrations.
Muyal SPA is inside a beautiful building in the middle of the gardens and with an extension of 1000 meters distributed throughout a complete Wellness Center. It has private cabins for individual or couple massages, according to the concept of well-being and comfort.
A wide range of professional treatments are offered, including therapies, natural and traditional holistic techniques, as well as state-of-the-art cosmetology treatments in a relaxing environment.
There is also a temazcal and an impressive hydromassage area unique in the State, with facilities that include sauna, steam, various showers, footbath, and a recreational pool.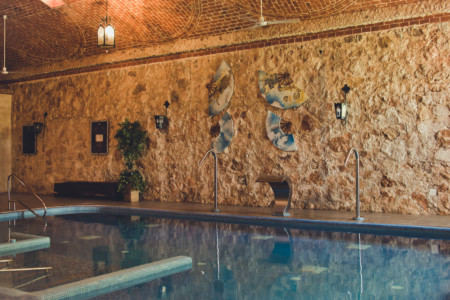 Muyal Spa
The Spa has a beauty salon special for the bridesmaids and an exclusive salon for the bride"
7-a-side soccer pitch and Artificial Cenote
Hacienda Santa Cruz has a seven-a-side football pitch perfect for friendly games, and also used for training by visiting soccer teams in our state. It has accommodation facilities, spa, and restaurant to have a complete experience without leaving the premises.
And if soccer is not your thing, you can choose to spend time in a comfortable, cool, and relaxing space to enjoy with your family, in the Artificial Cenote of the Hacienda; approximately four meters deep, surrounded by pergolas, lounge chairs, hammocks and two palapas.
In addition, for guests and visitors there are 10 bicycles for exclusive use within the facilities. You will find a bicycle path of approximately 900 meters to exercise in the mornings or afternoons either for jogging, running, or biking.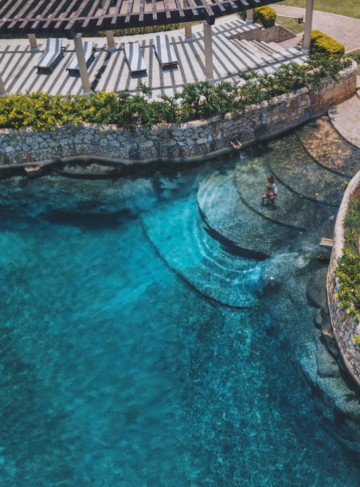 Artificial Cenote
Mayan Village "Chan Santa Cruz"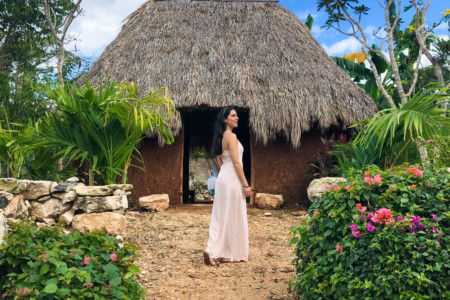 Mayan Village "Chan Santa Cruz"
Live the experience of walking inside a Mayan village within Hacienda Santa Cruz where the lifestyle of ancient communities that still prevail in our state has been recreated.
You will find four huts, each representing a different concept in our Mayan town. All of them have articles of common use in the families that inhabit them in the south of the state, and that are elaborated of bahareque and straw, called Nah.
Each hut is surrounded by its typical "albarradas" and a small square in the center with a traditional well, and in the front, there is an altar for Mayan celebrations or blessings.
In the first hut there are traditional cooking workshops; the second, is the hunter's hut which has heads and horns of deer from our region and decorative shotguns; in the third hut, they work on the hammock and do cross stitching work typical of our population. And finally, with an imposing ceiba tree, the hut of the Mayan priest which is higher than the others to highlight the importance of the priests over the other population since they had to be close to the Mayan gods to worship them. We will also find the representation of a green Mayan cross in the shape of a ceiba, this was the way in which the Spanish civilization introduced Christianity to the Mayan civilization of our state.
In this unique space, Mayan wedding performances have been held in a totally symbolic environment for people who wish to live an experience of our ancestors.
For reservations or more information, visit their website here.