The Yucatán Country Club offers the best lifestyle. Its resident's well-being for their personal, family, and social lives is achieved by the harmonious integration of multiple spaces and amenities:
An extraordinary Club House of fine architecture.
First-class restaurants
Spa and certified sports academies including golf, tennis, and paddle.
Golf Course "El Jaguar"
The Club has the Golf Course "El Jaguar", whose beauty and quality has been internationally awarded. Distinguished for providing great experiences to its members, it belongs to the top list of outstanding clubs not only for its excellent quality of design and amenities, but also for its renowned experience for leading and arranging a golf championship.
For several years, Golf Course "El Jaguar" has hosted the PGA Latin America Mayan World Open.
Golf Course "El Jaguar", a work of art by Jack Nicklaus, is the best golf course in México and Latin America. It has a playing distance of 7,295 yards and is the only course in the world with authentic archaeological vestiges of the Mayan culture. The course is among the residential area, four lakes, five wonderful cenotes, and impressive archaeological vestiges.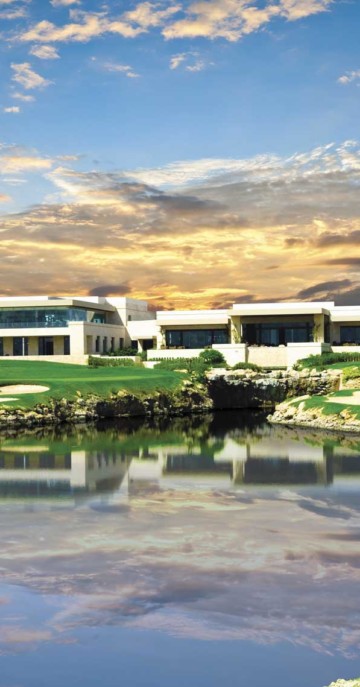 Casa Club
The Club House is a huge place built in stone and glass, located in a 5-hectare area. It is like a portal for those who wish to cross to a world of peace, pleasure, and unparalleled luxury.
The Yucatán Country Club's collection of world-class amenities allows Club members to enjoy the most modern sports, recreational and social facilities in México. Amenities that only other clubs in México and perhaps the world can dream of.
The best golf course designed by Jack Nicklaus.
Specialty restaurant.
Snack bars.
The most modern fitness center.
Courts of different surfaces.
Sports and recreational pools.
Academies: Golf, swimming, tennis, paddle, etc.
For more information, visit their website here.