Natural eco-touristic paradise with an exceptional landscape and extensive beaches full of coconut trees and mangroves that are part of the world heritage of the Celestún Biosphere Reserve. Approximately 400 species of migratory birds have been identified in the area, and it is one of the two sites where the pink flamingo nests, feeds and reproduces. It has an area of 59,139 hectares and a length of 21km, officially declared a wildlife refuge since 1979.
Celestún
It also has the extraordinary petrified forest named Tampetén and Punta Ninúm, where clams and miniature shrimp abound. Here you can also observe 234 different species of mammals that live in the estuary, amongst the main ones are the ocelot, jaguar, margay and spider monkey, which are considered endangered species along with three species of sea turtles and two species of crocodiles.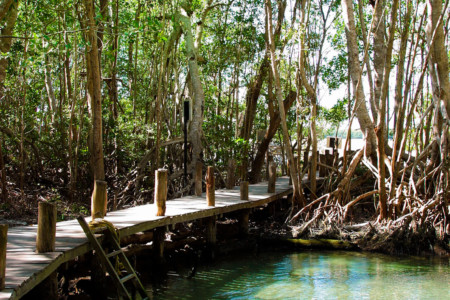 Celestún
Finally, in Celestún you can enjoy its freshwater springs hidden in the natural tunnels formed by the branches of the mangrove, where you can swim.
The Baldiosera spring is the largest concentration of freshwater within the mangrove and has small springs so that visitors can access the site.